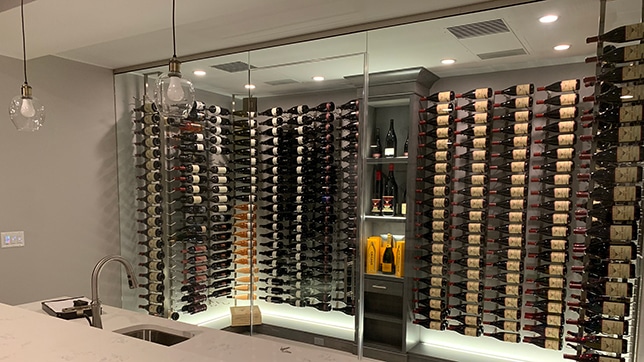 At DSI Glass, we install and design custom wine room glass enclosures. Show off your wine collection with beautiful glass doors and walls. Using customized glass enables your wine room to have a timeless look. Let us design a custom glass enclosure for your wine collection and add a stunning piece of artwork in your home.
DSI Glass is a complete service glass shop serving both commercial and residential clients. Since the inception of DSI Glass in 1990, we have prided ourselves on offering outstanding service to our customers throughout Chicagoland.
For shower doors, mirrors, custom glass, commercial glass applications or bathroom accessories look no further than D. Stallings Installations. Our team will ensure your glass project is completed in a timely manner while ensuring your complete satisfaction.
A FEW OF CUSTOM WINE ROOM GLASS ENCLOSURE INSTALLS
OUR SERVICE AREA
SERVING THE CHICAGOLAND AREA SINCE 1990
For shower doors, mirrors, custom glass, commercial glass and bathroom accessories in the Chicagoland area look no further than DSI Glass. For over 30 years we have been providing professional glass cutting and installation for residential and commercial clients throughout the Chicagoland area.
We pride ourselves in honesty and treating our customers right. We offer free consultations and estimates. Our friendly and knowledgable staff can recommend the best glass products for your specific application to ensure your project is a success.
CONTACT US TODAY
RESIDENTIAL AND COMMERCIAL GLASS SERVICES SINCE 1990